PRODUCTION / ROLE / DIRECTOR / VENUE
2012 / The Beauty Queen of Leenane / The Civic Theatre
2011 / Up Yours Your Honour / Rose / Sean Ronan / Tallaght Theatre
2011 / Beauty Queen of Leenane / Maureen Folan / Sean Ronan / Tallaght Theatre
2010 / Sweet Dreams / Paula Richards / Sean Ronan / International Theatre
2010 / The Tinker's Wedding / Mary Byrne / Sean Ronan / International Theatre
2009 / Goodnight Alice / Rose / Patricia McMenamin / Smock Alley Theatre
2009 / Portia Coghlan / Maggie May / Aoife Connolly / The New Theatre
2008 / Mammy's Boy / Mammy / Patricia McMenamin / Gay Theatre Festival
2007 / My name is Mary / Dee / Collaborative / Project Art Centre
2006 / Sins of the Mother / Kate / Patricia McMenamin / Project Arts Centre
2006 / The Witches of Navalon / Bad Witch / Anna Walker / Toured Leinster
2005 / I Pretend / Mags Hogan / Patricia McMenamin / Project Arts Centre
2004/5 / And then there was me / One Woman Show / Nuala Kelly / Gay Theatre Festival
2003 / The Tenants / Selina / Paul Kennedy / Cube@ the Project
2003 / Joyce Bits / Stephen D / Various roles / Collaborative / James Joyce
2002 / On Raftery's Hill / Dinah Raftery / Sean Colgan / Andrews Lane
2001 / The Tain / Queen Maeve / Elaine Crowe / Toured Dublin
2000 / Playboy of the Western World / Widow Quinn / Roisin Flood / Inchicore Theatre
Introducing "Sweet Dreams", written by Sean Ronan. Starring Suzanne Lakes as Paula Richards. Music by Cross Angel. Strong performance by Suzanne Lakes, playing the role of Paula Richards, a Dublin based heroin addict, who struggles to get to her daughter's Holy Communion.
Suzanne has performed pieces from Ulysses for over 12 years in association with the James Joyce Centre 'Bloomsday' Festival.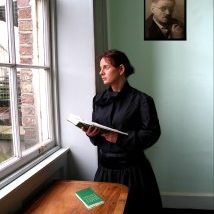 Suzanne toured for over 5 years with Childrens' Theatre and partakes in various education projects. 
The Beauty Queen of Leenane
2012 /
"The Beauty Queen of Leenane" is a darkly humorous play by Martin McDonagh set in a remote Irish village. It tells the story of Maureen Folan and her manipulative mother, Mag, in their native Gaelic language. As Maureen's romantic prospects arise, Mag's jealousy jeopardizes her chance at happiness. This thought-provoking play delves into themes of loneliness, family ties, and the pursuit of personal fulfillment in a confined Irish-speaking world.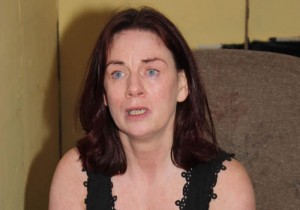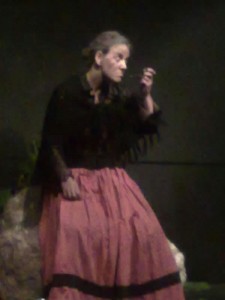 2010 /
"The Tinker's Wedding" (as Gaeilge: "Lá Dúblach an Tinceir") is a satirical comedy by J.M. Synge, an esteemed Irish playwright. Set in rural Ireland, the play humorously delves into themes of love, social class, and the pursuit of independence.
The story follows the spirited Sarah Casey and Michael Byrne, a tinker. Despite her father's objections, the couple is determined to marry and break free from societal expectations.
Through clever dialogue and comedic situations, "The Tinker's Wedding" mocks the hypocrisy of the upper class and challenges traditional notions of marriage and social hierarchy. It celebrates the resilience and determination of its characters as they navigate a world filled with social barriers and prejudice.
Overall, "The Tinker's Wedding" is a witty and insightful play that captures the essence of Irish society. It entertains while shedding light on the complexities of love and the desire for personal freedom.
2009 / 
"Portia Coghlan" (as Gaeilge: "Portia Cógáin") is a poignant Irish play by Marina Carr. Set in rural Ireland, it follows the eponymous character, Portia, as she grapples with love, loss, and her sense of identity. Trapped in an unhappy marriage and haunted by her twin brother's tragic death, Portia seeks solace and freedom. Through rich Gaelic language and evocative storytelling, the play explores themes of guilt, grief, and the enduring power of memory in the beautiful Irish landscape.
The Playboy of the Western World
2000 / 
"The Playboy of the Western World" ("Buachaill an tSathairn Shóil") is a darkly comedic play by John Millington Synge, set in rural Ireland. The story revolves around Christy Mahon, a young man who becomes a local hero after claiming to have killed his father. The villagers are enthralled by his rebellious tale until his father appears alive, challenging Christy's newfound fame. Through colorful Irish dialogue, the play explores themes of identity, storytelling, and the blurred line between reality and fiction. It remains a significant work in Irish literature, provoking thought on heroism and the power of perception.